.KR Domain (South Korea (Republic of Korea))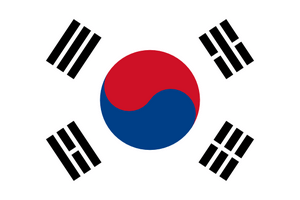 Please enter your desired domain name:
The official domain of South Korea .kr, is among the 25 most used domains in the world, it was launched in 1986. More than 49 million people, which corresponds to 97% of the population, are Internet users in Korea from the south. So it sounds attractive for those entrepreneurs or companies that want to expand their reach to East Asia.

South Korea is an avant-garde country that remains within reach of the new technologies that will mark the new future. The country intends to spend more than $ 100,000 on 5G technology for business. Since 2019 they have begun to implement 5G networks and by 2022 they want to achieve national coverage for the benefit of all sectors.

It is a prestige to have a presence in a country like South Korea, where they are on the fringes of the new trends that exist around the world. Having a .kr domain may be the opportunity you were waiting for to boost your business.
Domain characteristics
General Information for the domain extension .kr - South Korea (Republic of Korea)
Meaning of Extension
.kr is the official country domain (ccTLD) from South Korea (Republic of Korea).
Minimum and maximum length
2 - 63 characters
Time of registration
In real-time
Time of transfer
In real-time
Registrar Transfer
Yes, with Auth-Code
Trade
Yes
Premium Domains
Yes
IDN
Yes
Whois Privacy
No
DNSSEC Supported
No
Renewal Period
1Y, 2Y, 3Y, 4Y, 5Y, 6Y, 7Y, 8Y, 9Y, 10Y
Registration Period
1Y, 2Y, 3Y, 4Y, 5Y, 6Y, 7Y, 8Y, 9Y, 10Y
Cancellation Period
3 Day(s)
Supported IDN characters
가, 각, 간, 갇, 갈, 갉, 갊, 감, 갑, 값, 갓, 갔, 강, 갖, 갗, 같, 갚, 갛, 개, 객, 갠, 갤, 갬, 갭, 갯, 갰, 갱, 갸, 갹, 갼, 걀, 걋, 걍, 걔, 걘, 걜, 거, 걱, 건, 걷, 걸, 걺, 검, 겁, 것, 겄, 겅, 겆, 겉, 겊, 겋, 게, 겐, 겔, 겜, 겝, 겟, 겠, 겡, 겨, 격, 겪, 견, 겯, 결, 겸, 겹, 겻, 겼, 경, 곁, 계, 곈, 곌, 곕, 곗, 고, 곡, 곤, 곧, 골, 곪, 곬, 곯, 곰, 곱, 곳, 공, 곶, 과, 곽, 관, 괄, 괆, 괌, 괍, 괏, 광, 괘, 괜, 괠, 괩, 괬, 괭, 괴, 괵, 괸, 괼, 굄, 굅, 굇, 굉, 교, 굔, 굘, 굡, 굣, 구, 국, 군, 굳, 굴, 굵, 굶, 굻, 굼, 굽, 굿, 궁, 궂, 궈, 궉, 권, 궐, 궜, 궝, 궤, 궷, 귀, 귁, 귄, 귈, 귐, 귑, 귓, 규, 균, 귤, 그, 극, 근, 귿, 글, 긁, 금, 급, 긋, 긍, 긔, 기, 긱, 긴, 긷, 길, 긺, 김, 깁, 깃, 깅, 깆, 깊, 까, 깍, 깎, 깐, 깔, 깖, 깜, 깝, 깟, 깠, 깡, 깥, 깨, 깩, 깬, 깰, 깸, 깹, 깻, 깼, 깽, 꺄, 꺅, 꺌, 꺼, 꺽, 꺾, 껀, 껄, 껌, 껍, 껏, 껐, 껑, 께, 껙, 껜, 껨, 껫, 껭, 껴, 껸, 껼, 꼇, 꼈, 꼍, 꼐, 꼬, 꼭, 꼰, 꼲, 꼴, 꼼, 꼽, 꼿, 꽁, 꽂, 꽃, 꽈, 꽉, 꽐, 꽜, 꽝, 꽤, 꽥, 꽹, 꾀, 꾄, 꾈, 꾐, 꾑, 꾕, 꾜, 꾸, 꾹, 꾼, 꿀, 꿇, 꿈, 꿉, 꿋, 꿍, 꿎, 꿔, 꿜, 꿨, 꿩, 꿰, 꿱, 꿴, 꿸, 뀀, 뀁, 뀄, 뀌, 뀐, 뀔, 뀜, 뀝, 뀨, 끄, 끅, 끈, 끊, 끌, 끎, 끓, 끔, 끕, 끗, 끙, 끝, 끼, 끽, 낀, 낄, 낌, 낍, 낏, 낑, 나, 낙, 낚, 난, 낟, 날, 낡, 낢, 남, 납, 낫, 났, 낭, 낮, 낯, 낱, 낳, 내, 낵, 낸, 낼, 냄, 냅, 냇, 냈, 냉, 냐, 냑, 냔, 냘, 냠, 냥, 너, 넉, 넋, 넌, 널, 넒, 넓, 넘, 넙, 넛, 넜, 넝, 넣, 네, 넥, 넨, 넬, 넴, 넵, 넷, 넸, 넹, 녀, 녁, 년, 녈, 념, 녑, 녔, 녕, 녘, 녜, 녠, 노, 녹, 논, 놀, 놂, 놈, 놉, 놋, 농, 높, 놓, 놔, 놘, 놜, 놨, 뇌, 뇐, 뇔, 뇜, 뇝, 뇟, 뇨, 뇩, 뇬, 뇰, 뇹, 뇻, 뇽, 누, 눅, 눈, 눋, 눌, 눔, 눕, 눗, 눙, 눠, 눴, 눼, 뉘, 뉜, 뉠, 뉨, 뉩, 뉴, 뉵, 뉼, 늄, 늅, 늉, 느, 늑, 는, 늘, 늙, 늚, 늠, 늡, 늣, 능, 늦, 늪, 늬, 늰, 늴, 니, 닉, 닌, 닐, 닒, 님, 닙, 닛, 닝, 닢, 다, 닥, 닦, 단, 닫, 달, 닭, 닮, 닯, 닳, 담, 답, 닷, 닸, 당, 닺, 닻, 닿, 대, 댁, 댄, 댈, 댐, 댑, 댓, 댔, 댕, 댜, 더, 덕, 덖, 던, 덛, 덜, 덞, 덟, 덤, 덥, 덧, 덩, 덫, 덮, 데, 덱, 덴, 델, 뎀, 뎁, 뎃, 뎄, 뎅, 뎌, 뎐, 뎔, 뎠, 뎡, 뎨, 뎬, 도, 독, 돈, 돋, 돌, 돎, 돐, 돔, 돕, 돗, 동, 돛, 돝, 돠, 돤, 돨, 돼, 됐, 되, 된, 될, 됨, 됩, 됫, 됴, 두, 둑, 둔, 둘, 둠, 둡, 둣, 둥, 둬, 뒀, 뒈, 뒝, 뒤, 뒨, 뒬, 뒵, 뒷, 뒹, 듀, 듄, 듈, 듐, 듕, 드, 득, 든, 듣, 들, 듦, 듬, 듭, 듯, 등, 듸, 디, 딕, 딘, 딛, 딜, 딤, 딥, 딧, 딨, 딩, 딪, 따, 딱, 딴, 딸, 땀, 땁, 땃, 땄, 땅, 땋, 때, 땍, 땐, 땔, 땜, 땝, 땟, 땠, 땡, 떠, 떡, 떤, 떨, 떪, 떫, 떰, 떱, 떳, 떴, 떵, 떻, 떼, 떽, 뗀, 뗄, 뗌, 뗍, 뗏, 뗐, 뗑, 뗘, 뗬, 또, 똑, 똔, 똘, 똥, 똬, 똴, 뙈, 뙤, 뙨, 뚜, 뚝, 뚠, 뚤, 뚫, 뚬, 뚱, 뛔, 뛰, 뛴, 뛸, 뜀, 뜁, 뜅, 뜨, 뜩, 뜬, 뜯, 뜰, 뜸, 뜹, 뜻, 띄, 띈, 띌, 띔, 띕, 띠, 띤, 띨, 띰, 띱, 띳, 띵, 라, 락, 란, 랄, 람, 랍, 랏, 랐, 랑, 랒, 랖, 랗, 래, 랙, 랜, 랠, 램, 랩, 랫, 랬, 랭, 랴, 략, 랸, 럇, 량, 러, 럭, 런, 럴, 럼, 럽, 럿, 렀, 렁, 렇, 레, 렉, 렌, 렐, 렘, 렙, 렛, 렝, 려, 력, 련, 렬, 렴, 렵, 렷, 렸, 령, 례, 롄, 롑, 롓, 로, 록, 론, 롤, 롬, 롭, 롯, 롱, 롸, 롼, 뢍, 뢨, 뢰, 뢴, 뢸, 룀, 룁, 룃, 룅, 료, 룐, 룔, 룝, 룟, 룡, 루, 룩, 룬, 룰, 룸, 룹, 룻, 룽, 뤄, 뤘, 뤠, 뤼, 뤽, 륀, 륄, 륌, 륏, 륑, 류, 륙, 륜, 률, 륨, 륩, 륫, 륭, 르, 륵, 른, 를, 름, 릅, 릇, 릉, 릊, 릍, 릎, 리, 릭, 린, 릴, 림, 립, 릿, 링, 마, 막, 만, 많, 맏, 말, 맑, 맒, 맘, 맙, 맛, 망, 맞, 맡, 맣, 매, 맥, 맨, 맬, 맴, 맵, 맷, 맸, 맹, 맺, 먀, 먁, 먈, 먕, 머, 먹, 먼, 멀, 멂, 멈, 멉, 멋, 멍, 멎, 멓, 메, 멕, 멘, 멜, 멤, 멥, 멧, 멨, 멩, 며, 멱, 면, 멸, 몃, 몄, 명, 몇, 몌, 모, 목, 몫, 몬, 몰, 몲, 몸, 몹, 못, 몽, 뫄, 뫈, 뫘, 뫙, 뫼, 묀, 묄, 묍, 묏, 묑, 묘, 묜, 묠, 묩, 묫, 무, 묵, 묶, 문, 묻, 물, 묽, 묾, 뭄, 뭅, 뭇, 뭉, 뭍, 뭏, 뭐, 뭔, 뭘, 뭡, 뭣, 뭬, 뮈, 뮌, 뮐, 뮤, 뮨, 뮬, 뮴, 뮷, 므, 믄, 믈, 믐, 믓, 미, 믹, 민, 믿, 밀, 밂, 밈, 밉, 밋, 밌, 밍, 및, 밑, 바, 박, 밖, 밗, 반, 받, 발, 밝, 밞, 밟, 밤, 밥, 밧, 방, 밭, 배, 백, 밴, 밸, 뱀, 뱁, 뱃, 뱄, 뱅, 뱉, 뱌, 뱍, 뱐, 뱝, 버, 벅, 번, 벋, 벌, 벎, 범, 법, 벗, 벙, 벚, 베, 벡, 벤, 벧, 벨, 벰, 벱, 벳, 벴, 벵, 벼, 벽, 변, 별, 볍, 볏, 볐, 병, 볕, 볘, 볜, 보, 복, 볶, 본, 볼, 봄, 봅, 봇, 봉, 봐, 봔, 봤, 봬, 뵀, 뵈, 뵉, 뵌, 뵐, 뵘, 뵙, 뵤, 뵨, 부, 북, 분, 붇, 불, 붉, 붊, 붐, 붑, 붓, 붕, 붙, 붚, 붜, 붤, 붰, 붸, 뷔, 뷕, 뷘, 뷜, 뷩, 뷰, 뷴, 뷸, 븀, 븃, 븅, 브, 븍, 븐, 블, 븜, 븝, 븟, 비, 빅, 빈, 빌, 빎, 빔, 빕, 빗, 빙, 빚, 빛, 빠, 빡, 빤, 빨, 빪, 빰, 빱, 빳, 빴, 빵, 빻, 빼, 빽, 뺀, 뺄, 뺌, 뺍, 뺏, 뺐, 뺑, 뺘, 뺙, 뺨, 뻐, 뻑, 뻔, 뻗, 뻘, 뻠, 뻣, 뻤, 뻥, 뻬, 뼁, 뼈, 뼉, 뼘, 뼙, 뼛, 뼜, 뼝, 뽀, 뽁, 뽄, 뽈, 뽐, 뽑, 뽕, 뾔, 뾰, 뿅, 뿌, 뿍, 뿐, 뿔, 뿜, 뿟, 뿡, 쀼, 쁑, 쁘, 쁜, 쁠, 쁨, 쁩, 삐, 삑, 삔, 삘, 삠, 삡, 삣, 삥, 사, 삭, 삯, 산, 삳, 살, 삵, 삶, 삼, 삽, 삿, 샀, 상, 샅, 새, 색, 샌, 샐, 샘, 샙, 샛, 샜, 생, 샤, 샥, 샨, 샬, 샴, 샵, 샷, 샹, 섀, 섄, 섈, 섐, 섕, 서, 석, 섞, 섟, 선, 섣, 설, 섦, 섧, 섬, 섭, 섯, 섰, 성, 섶, 세, 섹, 센, 셀, 셈, 셉, 셋, 셌, 셍, 셔, 셕, 션, 셜, 셤, 셥, 셧, 셨, 셩, 셰, 셴, 셸, 솅, 소, 속, 솎, 손, 솔, 솖, 솜, 솝, 솟, 송, 솥, 솨, 솩, 솬, 솰, 솽, 쇄, 쇈, 쇌, 쇔, 쇗, 쇘, 쇠, 쇤, 쇨, 쇰, 쇱, 쇳, 쇼, 쇽, 숀, 숄, 숌, 숍, 숏, 숑, 수, 숙, 순, 숟, 술, 숨, 숩, 숫, 숭, 숯, 숱, 숲, 숴, 쉈, 쉐, 쉑, 쉔, 쉘, 쉠, 쉥, 쉬, 쉭, 쉰, 쉴, 쉼, 쉽, 쉿, 슁, 슈, 슉, 슐, 슘, 슛, 슝, 스, 슥, 슨, 슬, 슭, 슴, 습, 슷, 승, 시, 식, 신, 싣, 실, 싫, 심, 십, 싯, 싱, 싶, 싸, 싹, 싻, 싼, 쌀, 쌈, 쌉, 쌌, 쌍, 쌓, 쌔, 쌕, 쌘, 쌜, 쌤, 쌥, 쌨, 쌩, 썅, 써, 썩, 썬, 썰, 썲, 썸, 썹, 썼, 썽, 쎄, 쎈, 쎌, 쏀, 쏘, 쏙, 쏜, 쏟, 쏠, 쏢, 쏨, 쏩, 쏭, 쏴, 쏵, 쏸, 쐈, 쐐, 쐤, 쐬, 쐰, 쐴, 쐼, 쐽, 쑈, 쑤, 쑥, 쑨, 쑬, 쑴, 쑵, 쑹, 쒀, 쒔, 쒜, 쒸, 쒼, 쓩, 쓰, 쓱, 쓴, 쓸, 쓺, 쓿, 씀, 씁, 씌, 씐, 씔, 씜, 씨, 씩, 씬, 씰, 씸, 씹, 씻, 씽, 아, 악, 안, 앉, 않, 알, 앍, 앎, 앓, 암, 압, 앗, 았, 앙, 앝, 앞, 애, 액, 앤, 앨, 앰, 앱, 앳, 앴, 앵, 야, 약, 얀, 얄, 얇, 얌, 얍, 얏, 양, 얕, 얗, 얘, 얜, 얠, 얩, 어, 억, 언, 얹, 얻, 얼, 얽, 얾, 엄, 업, 없, 엇, 었, 엉, 엊, 엌, 엎, 에, 엑, 엔, 엘, 엠, 엡, 엣, 엥, 여, 역, 엮, 연, 열, 엶, 엷, 염, 엽, 엾, 엿, 였, 영, 옅, 옆, 옇, 예, 옌, 옐, 옘, 옙, 옛, 옜, 오, 옥, 온, 올, 옭, 옮, 옰, 옳, 옴, 옵, 옷, 옹, 옻, 와, 왁, 완, 왈, 왐, 왑, 왓, 왔, 왕, 왜, 왝, 왠, 왬, 왯, 왱, 외, 왹, 왼, 욀, 욈, 욉, 욋, 욍, 요, 욕, 욘, 욜, 욤, 욥, 욧, 용, 우, 욱, 운, 울, 욹, 욺, 움, 웁, 웃, 웅, 워, 웍, 원, 월, 웜, 웝, 웠, 웡, 웨, 웩, 웬, 웰, 웸, 웹, 웽, 위, 윅, 윈, 윌, 윔, 윕, 윗, 윙, 유, 육, 윤, 율, 윰, 윱, 윳, 융, 윷, 으, 윽, 은, 을, 읊, 음, 읍, 읏, 응, 읒, 읓, 읔, 읕, 읖, 읗, 의, 읜, 읠, 읨, 읫, 이, 익, 인, 일, 읽, 읾, 잃, 임, 입, 잇, 있, 잉, 잊, 잎, 자, 작, 잔, 잖, 잗, 잘, 잚, 잠, 잡, 잣, 잤, 장, 잦, 재, 잭, 잰, 잴, 잼, 잽, 잿, 쟀, 쟁, 쟈, 쟉, 쟌, 쟎, 쟐, 쟘, 쟝, 쟤, 쟨, 쟬, 저, 적, 전, 절, 젊, 점, 접, 젓, 정, 젖, 제, 젝, 젠, 젤, 젬, 젭, 젯, 젱, 져, 젼, 졀, 졈, 졉, 졌, 졍, 졔, 조, 족, 존, 졸, 졺, 좀, 좁, 좃, 종, 좆, 좇, 좋, 좌, 좍, 좔, 좝, 좟, 좡, 좨, 좼, 좽, 죄, 죈, 죌, 죔, 죕, 죗, 죙, 죠, 죡, 죤, 죵, 주, 죽, 준, 줄, 줅, 줆, 줌, 줍, 줏, 중, 줘, 줬, 줴, 쥐, 쥑, 쥔, 쥘, 쥠, 쥡, 쥣, 쥬, 쥰, 쥴, 쥼, 즈, 즉, 즌, 즐, 즘, 즙, 즛, 증, 지, 직, 진, 짇, 질, 짊, 짐, 집, 짓, 징, 짖, 짙, 짚, 짜, 짝, 짠, 짢, 짤, 짧, 짬, 짭, 짯, 짰, 짱, 째, 짹, 짼, 쨀, 쨈, 쨉, 쨋, 쨌, 쨍, 쨔, 쨘, 쨩, 쩌, 쩍, 쩐, 쩔, 쩜, 쩝, 쩟, 쩠, 쩡, 쩨, 쩽, 쪄, 쪘, 쪼, 쪽, 쫀, 쫄, 쫌, 쫍, 쫏, 쫑, 쫓, 쫘, 쫙, 쫠, 쫬, 쫴, 쬈, 쬐, 쬔, 쬘, 쬠, 쬡, 쭁, 쭈, 쭉, 쭌, 쭐, 쭘, 쭙, 쭝, 쭤, 쭸, 쭹, 쮜, 쮸, 쯔, 쯤, 쯧, 쯩, 찌, 찍, 찐, 찔, 찜, 찝, 찡, 찢, 찧, 차, 착, 찬, 찮, 찰, 참, 찹, 찻, 찼, 창, 찾, 채, 책, 챈, 챌, 챔, 챕, 챗, 챘, 챙, 챠, 챤, 챦, 챨, 챰, 챵, 처, 척, 천, 철, 첨, 첩, 첫, 첬, 청, 체, 첵, 첸, 첼, 쳄, 쳅, 쳇, 쳉, 쳐, 쳔, 쳤, 쳬, 쳰, 촁, 초, 촉, 촌, 촐, 촘, 촙, 촛, 총, 촤, 촨, 촬, 촹, 최, 쵠, 쵤, 쵬, 쵭, 쵯, 쵱, 쵸, 춈, 추, 축, 춘, 출, 춤, 춥, 춧, 충, 춰, 췄, 췌, 췐, 취, 췬, 췰, 췸, 췹, 췻, 췽, 츄, 츈, 츌, 츔, 츙, 츠, 측, 츤, 츨, 츰, 츱, 츳, 층, 치, 칙, 친, 칟, 칠, 칡, 침, 칩, 칫, 칭, 카, 칵, 칸, 칼, 캄, 캅, 캇, 캉, 캐, 캑, 캔, 캘, 캠, 캡, 캣, 캤, 캥, 캬, 캭, 컁, 커, 컥, 컨, 컫, 컬, 컴, 컵, 컷, 컸, 컹, 케, 켁, 켄, 켈, 켐, 켑, 켓, 켕, 켜, 켠, 켤, 켬, 켭, 켯, 켰, 켱, 켸, 코, 콕, 콘, 콜, 콤, 콥, 콧, 콩, 콰, 콱, 콴, 콸, 쾀, 쾅, 쾌, 쾡, 쾨, 쾰, 쿄, 쿠, 쿡, 쿤, 쿨, 쿰, 쿱, 쿳, 쿵, 쿼, 퀀, 퀄, 퀑, 퀘, 퀭, 퀴, 퀵, 퀸, 퀼, 큄, 큅, 큇, 큉, 큐, 큔, 큘, 큠, 크, 큭, 큰, 클, 큼, 큽, 킁, 키, 킥, 킨, 킬, 킴, 킵, 킷, 킹, 타, 탁, 탄, 탈, 탉, 탐, 탑, 탓, 탔, 탕, 태, 택, 탠, 탤, 탬, 탭, 탯, 탰, 탱, 탸, 턍, 터, 턱, 턴, 털, 턺, 텀, 텁, 텃, 텄, 텅, 테, 텍, 텐, 텔, 템, 텝, 텟, 텡, 텨, 텬, 텼, 톄, 톈, 토, 톡, 톤, 톨, 톰, 톱, 톳, 통, 톺, 톼, 퇀, 퇘, 퇴, 퇸, 툇, 툉, 툐, 투, 툭, 툰, 툴, 툼, 툽, 툿, 퉁, 퉈, 퉜, 퉤, 튀, 튁, 튄, 튈, 튐, 튑, 튕, 튜, 튠, 튤, 튬, 튱, 트, 특, 튼, 튿, 틀, 틂, 틈, 틉, 틋, 틔, 틘, 틜, 틤, 틥, 티, 틱, 틴, 틸, 팀, 팁, 팃, 팅, 파, 팍, 팎, 판, 팔, 팖, 팜, 팝, 팟, 팠, 팡, 팥, 패, 팩, 팬, 팰, 팸, 팹, 팻, 팼, 팽, 퍄, 퍅, 퍼, 퍽, 펀, 펄, 펌, 펍, 펏, 펐, 펑, 페, 펙, 펜, 펠, 펨, 펩, 펫, 펭, 펴, 편, 펼, 폄, 폅, 폈, 평, 폐, 폘, 폡, 폣, 포, 폭, 폰, 폴, 폼, 폽, 폿, 퐁, 퐈, 퐝, 푀, 푄, 표, 푠, 푤, 푭, 푯, 푸, 푹, 푼, 푿, 풀, 풂, 품, 풉, 풋, 풍, 풔, 풩, 퓌, 퓐, 퓔, 퓜, 퓟, 퓨, 퓬, 퓰, 퓸, 퓻, 퓽, 프, 픈, 플, 픔, 픕, 픗, 피, 픽, 핀, 필, 핌, 핍, 핏, 핑, 하, 학, 한, 할, 핥, 함, 합, 핫, 항, 해, 핵, 핸, 핼, 햄, 햅, 햇, 했, 행, 햐, 향, 허, 헉, 헌, 헐, 헒, 험, 헙, 헛, 헝, 헤, 헥, 헨, 헬, 헴, 헵, 헷, 헹, 혀, 혁, 현, 혈, 혐, 협, 혓, 혔, 형, 혜, 혠, 혤, 혭, 호, 혹, 혼, 홀, 홅, 홈, 홉, 홋, 홍, 홑, 화, 확, 환, 활, 홧, 황, 홰, 홱, 홴, 횃, 횅, 회, 획, 횐, 횔, 횝, 횟, 횡, 효, 횬, 횰, 횹, 횻, 후, 훅, 훈, 훌, 훑, 훔, 훗, 훙, 훠, 훤, 훨, 훰, 훵, 훼, 훽, 휀, 휄, 휑, 휘, 휙, 휜, 휠, 휨, 휩, 휫, 휭, 휴, 휵, 휸, 휼, 흄, 흇, 흉, 흐, 흑, 흔, 흖, 흗, 흘, 흙, 흠, 흡, 흣, 흥, 흩, 희, 흰, 흴, 흼, 흽, 힁, 히, 힉, 힌, 힐, 힘, 힙, 힛, 힝
Renewal On Transfer
Yes
Term transfer on Transfer
Yes
Local contact needed
Privacy Level
Data has to be send in a jurisdiction without an adequate level of data protection as outlined by the EU. Fundamental rights like the right to be forgotten or erasure are not guaranteed. WHOIS is mostly exposed. If you want to go safe, use our WHOIS Privacy Service or Trustee, if available. See GDPR chapter 5 and GDPR Article 49 for more information.
Trustee Service
Yes (

0

/ 1 year)
Manual renewal possible
Number of nameservers allowed
2 - 5
The domain terms for .kr domains can be found at:
https://krnic.or.kr/jsp/infoboard/law/law.jsp

API Details
domain:create
domain:transfer
domain:trade